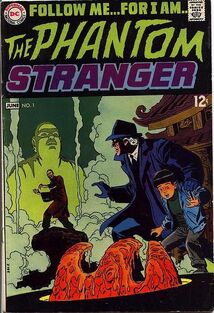 A character from the 1950's. The Phantom Stranger was DC's attempt to bring an actual face to it's horror comics. His first series only ran for six issues, and at the time he was not necesarrily supernatural. In the early 1970's, he was brought back and given a major boost in power by making him a true otherworldly being. Several origins for the character who put forth in a Secret Origins issues, the most notable being Alan Moore's. The character now spends his time walking into the stories of other characters and guiding them in his own way.
Works and Appearances
Edit
Aside from his original series, he was featured in a Veritgo one-shot.
Download Links
Edit
Collection of Phantom Stranger Works
http://www.mediafire.com/?sharekey=824993322aada1470f83d91f6dff7c387307ae70a65fbe908fc250f3b72c7f6c
Bonus Blog link:
Ad blocker interference detected!
Wikia is a free-to-use site that makes money from advertising. We have a modified experience for viewers using ad blockers

Wikia is not accessible if you've made further modifications. Remove the custom ad blocker rule(s) and the page will load as expected.