Deadpool

'
In-story Information

Name

Wade Winston Wilson

Alias

Deadpool

Affiliation

Powers

Regenerate healing factor
Superhuman strength, stamina, agility, and reflexes

Abilities

Expert marksman, swordsman and martial artist

Publication Info

Publisher

Created by

First Appearance

New Mutants # 98 (Feb. 1991)
Deadpool (Wade Wilson) is a fictional character that appears in comic books published by Marvel Comics. Created by artist Rob Liefeld and writer Fabian Nicieza, Deadpool first appeared in The New Mutants #98 (Feb. 1991).
A disfigured and mentally unstable mercenary, Deadpool originally appeared as a villain in an issue of New Mutants, and later in issues of X-Force. The character has since starred in several ongoing series, and shares titles with other characters such as Cable. The character is famous for his tendency to break the fourth wall and is frequently referred to by the moniker "Merc with a Mouth."
Recommended reading
Edit
Deadpool vol. 1 #1-30 (Joe Kelly)
Deadpool vol. 2 #1-Current (Daniel Way)
Deadpool Almost Destroys the Marvel Universe
Deadpool: Games of Death (Mike Benson)
Deadpool & GLI: Summer Fun Spectacular (Dan Slott)
Deadpool Merc With A Mouth #1-13 (Victor Gischler)
Deadpool: Sucide Kings (Mike Benson)
Deadpool: The Circle Chase (Fabian Nicieza)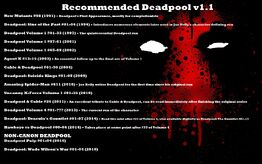 Ad blocker interference detected!
Wikia is a free-to-use site that makes money from advertising. We have a modified experience for viewers using ad blockers

Wikia is not accessible if you've made further modifications. Remove the custom ad blocker rule(s) and the page will load as expected.