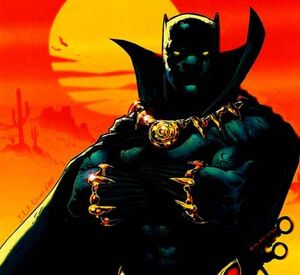 Black Panther is the ruler of Wakanda, a fictional country in Africa which is known for never being conquered in all of its 10,000 year history. His country is the only place where Vibrainum is found.
Recommended Reading
Edit
Panther's Rage (Don McGregor)
Panther's Prey [miniseries] (Don McGregor)
Black Panther vol 3 #1-62 (Priest)
Black Panther vol 4 #39-41 (Jason Aaron) Secret Invasion tie-in
Black Panther vol 5 #7-12 (Mayberry)
Doomwar #1-current (Mayberry)
Black Panther: The Man Without Fear # 513-529 (David Liss)
Reggie Hudlin
Edit
This is why we don't reccommed Hudlin's run
Ad blocker interference detected!
Wikia is a free-to-use site that makes money from advertising. We have a modified experience for viewers using ad blockers

Wikia is not accessible if you've made further modifications. Remove the custom ad blocker rule(s) and the page will load as expected.