Avengers: The Initiative
Edit
Avengers: The Initiative is a Marvel comic boo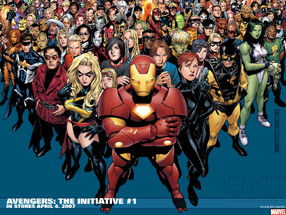 k series headlined by Dan Slott and backed-up by Christos Gage which spun-off during the Aftermath of Civil War with Pym's Fifty State Initiative being implemented. The Fifty State Initiative assigns a team of heroes to each states in America, thus a training camp was constructed in Camp Hammond in order to fill-in the much needed vacancies.
The series was well like due to its use of D-list and C-list characters in the story while introducing new characters into the fold and has been the launching point of some characters such as Taskmaster and the New Warriors. Good storytelling and highly recommended and is essentially one of the best tie-ins during major crossover arcs. Also, that FUCKING TWEEST!
Recommended Reading
Edit
Avengers: The Initiative #1 - #35
Avengers: The Initiative Annual #1
Avengers: The Initiative - Reptil
Ad blocker interference detected!
Wikia is a free-to-use site that makes money from advertising. We have a modified experience for viewers using ad blockers

Wikia is not accessible if you've made further modifications. Remove the custom ad blocker rule(s) and the page will load as expected.