Alvar Mayor


Creative Team

Writers

Illustrators

Publication Info

No. of issues

Unknown

Publisher

Schedule

Genre

Adventures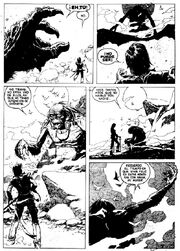 The adventures of Alvar Mayor, a romantic adventurer on the times of the conquest of America, mixing fantasy with a historical background.
It's similar in style to Corto Maltese or Thorgal. Just made in Argentina instead of Europe.
Ad blocker interference detected!
Wikia is a free-to-use site that makes money from advertising. We have a modified experience for viewers using ad blockers

Wikia is not accessible if you've made further modifications. Remove the custom ad blocker rule(s) and the page will load as expected.